« Print of the Day - "Bridget's Tulips" | Main | Print of the Day - "Dancing Poppies" »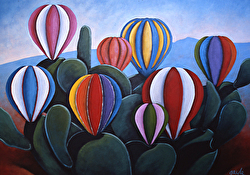 Cactus Fiesta" title="Cactus Fiesta" class="frame">
Cactus Fiesta
Each year in October, the sky is filled with the beauty of the Albuquerque International Balloon Fiesta. In this painting, I combined my love of cactus with colorful hot air balloons against a backdrop of the Sandia Mountains.

This painting was stolen by a local frame shop owner a few years ago. Thankfully, I had some good slides of it, so fine art prints are available on The Untapped Source in the following sizes:


5" x 7"
15" x 21"
20" x 28"
I recommend having this printed on watercolor paper or canvas, but matte, glossy and luster papers are also available.

Topics:
Albuquerque Balloon Fiesta
|
canvas prints
|
fine art prints
|
frame shop
|
giclées
|
Southwest
|
stolen art
|
stolen paintings
Comments