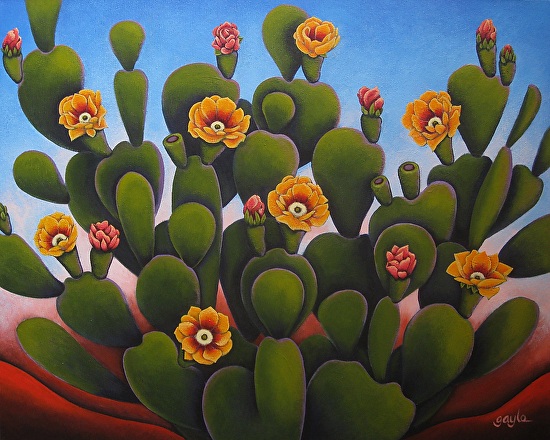 "Desert Beauty"
Most of my acrylic paintings are painted on 1.5" deep gallery wrap canvas. I thought I would post this just to inform anyone who may not know what that is. It is becoming a very popular way to display art because it eliminates the need to purchase custom framing. I love nice picture frames as much as anyone, but I think whether to frame or not should be up to the collector. However, I do think that the gallery wrap canvas does not always work for all types of paintings. Some paintings do look much better in a traditional frame.
With a gallery wrap canvas, the edges of the canvas are wrapped around the sides of the stretcher strips and attached on the back with a spline or staples, etc.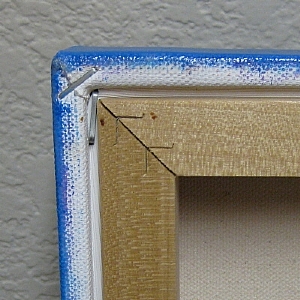 Spline Fastened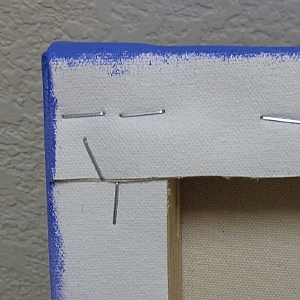 Stapled
With the canvas attached to the back, the artist can paint the edges, giving it a finished look. Some artists paint a solid color on the edges that coordinates with the colors of the painting and others continue the painting onto the edges. On the 1.5" edges, I continue the painting onto the edges, as shown. If it's a smaller canvas with a standard 3/4" edge, then I usually paint it a solid color.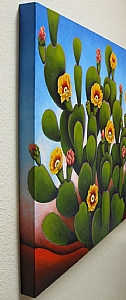 The nice thing about this is even though the painting can be displayed without a frame, it can also be custom framed like any other painting, if the collector prefers.
Desert Beauty is available for purchase here on my website.

©2010 Gayle Faucette Wisbon, Desert Beauty. Original acrylic painting on canvas, 24 x 30 inches.
Topics:
supplies