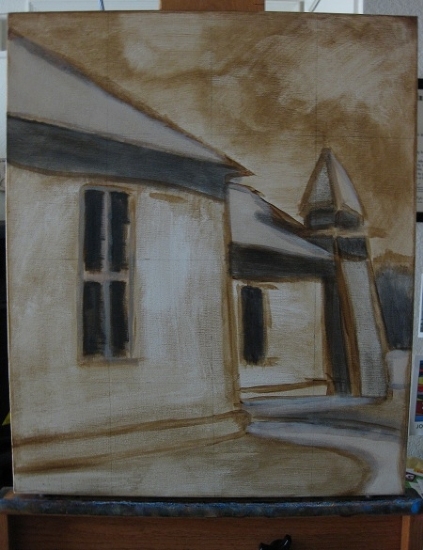 I'm cringing as I do this because I really dislike having people see my paintings before they are finished. But I really enjoy looking at other artist's works in progress. So, I'm going to be bold and share this one here on my blog from the underpainting stage it is in now until it is finished.
This is a 24"h x 20"w stretched canvas. First, I drew a grid in pencil on the canvas to help me with the placement of my sketch. I've done a very rough underpainting of the values using a wash of Liquitex Transparent Burnt Umber, Titanium White and a little bit of Mars Black. I don't usually start out this way, but I liked how this worked out, so this will probably be my method from now on.
It's very messy at this point, but an art professor once told me to start out loose and I can always tighten it up as I go. Actually, this is the most fun part of the painting, until it gets to the final stages. There's a lot of problem solving in between.
This is actually 1 of 4 paintings that I have in various stages of progress. Hopefully, I'll have a finished one to post soon!
Topics:
acrylic
|
church
|
original
|
Southwest