« Poppy I - New Painting in Small Works Collection | Main | Poppy III - New Painting in Small Works Collection »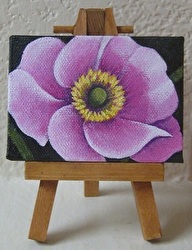 Poppy II
This is an original acrylic painting on canvas. The actual canvas size is 2.5"h x 3.5"w, which is an ACEO size. ACEO stands for Art Cards, Editions and Originals. ACEO's are the same size as other types of trading cards and are a popular way to collect small pieces of art. The painting is signed on the bottom edge and on the back.

It will be delivered varnished and comes with display easel, as shown. Shipping to the continental U.S. is already included. Click here for purchase details.

© Gayle Faucette Wisbon, Poppy II, Original acrylic painting on canvas, 2.5 x 3.5 inches.
Topics:
acrylic painting
|
florals
|
flower painting
|
original painting
|
poppies
Comments