« Prickly Pear - New Painting in Small Works Collection | Main | Some Morning Inspiration »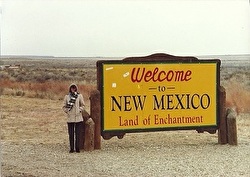 December 1986
Today, January 6, 2012, is New Mexico's 100th birthday. I wish a Happy Birthday to a beautiful and unique state that has been my home for the past 25 years.
Sometimes, it seems like yesterday that I arrived here and they were preparing to celebrate 75 years. I actually arrived in Albuquerque in December 1986 and then took a trip to Los Angeles for the holidays. I officially became a New Mexico resident in January 1987. It has been quite an experience. Fresh out of college, no children yet and lots of hopes and dreams for the future. Some came true, some didn't, but that's life. All in all, it's been a wonderful experience.
So, Happy Birthday, New Mexico! You've been a great place to be!
Topics:
New Mexico
Comments