« Happy 100th Birthday, New Mexico | Main | A Painting Just for Me »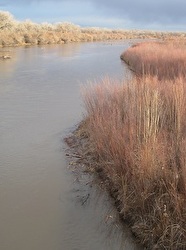 I went out around 7:45 this morning and noticed as the sun was rising, the sky was a beautiful dark blue. The treetops were catching the sunlight and they were all aglow. I ran in and got my camera and drove down to one of my favorite spots on the pedestrian bridge on Alameda. This is the old Alameda bridge that is only open to walkers, bikers and horseback riders. It's a beautiful spot anytime of the year to see the Rio Grande, the Sandia Mountains, the Corrales Bosque and the wildlife.
Of course, in the ten minutes it took me to get there, the sun had already slipped behind a big cloud, so some of the drama in the skies was gone. But, it was still beautiful and gave me some new inspiration. I've been planning a long time to do a series of paintings around this area during different times of the day and different seasons. I think this is the year to do just that.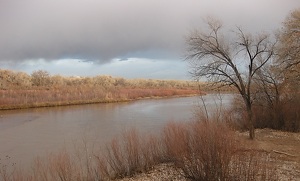 Topics:
inspiration
|
landscapes
|
New Mexico
|
painting
|
Rio Grande
|
Southwest
|
Sandia Mountains
Comments