« Art.com - Time for Me to Leave? | Main | My Palette »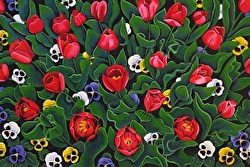 The Tulip Garden
1. My email subscribers are the first to be notified of my new paintings.
2. I offer special pricing on my new canvas paintings to my email subscribers.
3. I sometimes offer promotions and discounts on reproductions of my paintings.
4. I occassionally have contests for free prints.
5. Each subscriber receives a postcard of "The Tulip Garden", upon request.
Interested? Sign up here!
Topics:
newsletter
Comments