« A Tribute to My Grandfather | Main | Terracotta I »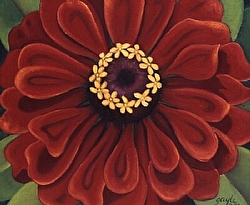 One of Many
It was over twenty-five years ago that I first heard of Georgia O'Keeffe. An old boyfriend had a poster of her work, "From the Faraway Nearby". At first, I was intrigued, but I also secretly wondered why anyone would want to paint an animal skull and why would anyone want to hang it in their home?
I had always wanted to be an artist, but I had only been exposed to art through classes in high school and a couple of workshops. My desire to become an artist became so strong that I decided to enter college and study art.
Being a country girl, with not much exposure to the world, attending a university was an awesome experience for me. It was a whole new world and learning about art and art history was so exciting to me.
I remember during a painting critique, another student had done this marvelous painting and was told that her work resembled that of Georgia O'Keeffe. I can not remember the subject of this painting, but I remember that it was a different style and it made me want to find out more about the work of O'Keeffe.
As I saw more and more of her work, I loved how beautifully and simply she painted her subject matter, especially her flowers. "Red Poppy" is one of my favorites. I loved reading books about her and her experiences, especially in New Mexico. I found myself growing more as a painter, not copying her style, but definitely influenced by it.
In February 1986, I married the "old boyfriend" and we traveled throughout the Southwest on our honeymoon. We had talked of moving there and thought it would be a good time to visit and see how we liked it. Of course, I loved Santa Fe, New Mexico and thought that was where I would like to live. I didn't even realize until weeks later that Georgia O'Keeffe was in a Santa Fe hospital during that time and died a few weeks later.
In December 1986, I graduated from college and we moved to New Mexico! We actually lived in Belen first and then later, Albuquerque. Years ago, we traveled up to northern New Mexico to Abiquiu and Ghost Ranch to see where she had lived and worked. She had definitely captured the beauty and essence of that area. Everywhere you look, you can see her paintings in the landscape - the pedernal, the cliffs, the red hills and the winding road past her home.
Several years ago, the Georgia O'Keeffe Museum opened in Santa Fe. It is so inspiring to see her actual paintings, in all their beauty and simplicity. If you are ever in Santa Fe, it is definitely something you must see.
I have continued to paint through the years, while working and raising my children. I remember in college during another painting critique, the professor stated that in ten years from then, only about two people from the class would still be painting. For some reason, I have always remembered that, so I keep pursuing this dream. When I paint, I always think of Ms. O'Keeffe's description of painting as "filling a space in a beautiful way".
I am still in New Mexico, older, now single, children are grown. I have more time to paint now and I feel like I am finally finding my own voice. I am still inspired by the life and work of Georgia O'Keeffe. I have to admit, I have even sketched a few skulls.
Topics:
inspiration
|
flower painting
Comments
1 Response to Georgia O'Keeffe - My Inspiration
Peggy Guichu
via web52 months ago
I, too, was very much touched by O'Keeff's work.
I didn't even know who she was until I started painting and someone told me I painted like her. Your work is wonderful. So far, I've accomplished my 11am to 3pm twice. I suppose I should consider that an accomplishment:) I'm striving to do better. If other's in my family would do the same it would be a lot easier. We should keep each other on tasks. Good luck to you, too. Peg
* indicates a required field