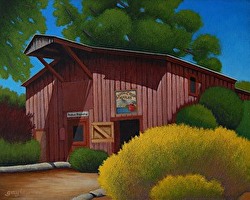 The Cider Barn
This is an acrylic painting of a barn on the Rio Grande Heritage Farm located inside the ABQ Biopark. The farm is a 1930's era year-round working farm. The barn is used for making apple cider and vinegar. I spent a day at the Biopark taking pictures one day and this was a scene just waiting to be painted.
This is an original acrylic painting on gallery wrap canvas. The edges are painted, so it can be displayed framed or unframed. The painting will be delivered UPS ground service, varnished and ready to hang. Shipping to the continental U.S. will be calculated in Paypal during checkout. For all other destinations, please contact me for shipping information using the link above.
Click here to view larger image.
©2013 Gayle Faucette Wisbon, The Cider Barn, Original acrylic painting on canvas, 16 x 20 inches.
Comment on or Share this Article →