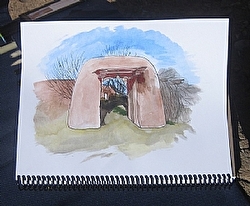 What a gorgeous morning it was to be outside! Sunshine, blue skies, 35 degrees with a "Real Feel" of 50. I returned to the Old Church in Corrales to continue my sketching. Today I sketched the old adobe arched wall in front of Casa San Ysidro. It was very quiet and peaceful. I added some basic watercolors to my sketching supplies today. However, I forgot that watercolors are not very forgiving, so there are errors in my sketch that I can't remove. Oh well, it's all a learning process and for me, just a fun way to take notes. I'm sure as I get more comfortable sketching en plein air on a regular basis, my sketches will improve and become more spontaneous.
There are so many possibilities for paintings just in this one small area. So, I'm planning to do a small series of acrylic paintings, at least 4, in the next couple of months. I remember that in early spring, one of the large trees in front of Casa San Ysidro has beautiful pink blooms. I'm definitely looking forward to spring!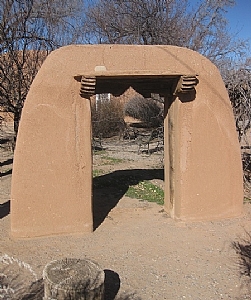 Comment on or Share this Article →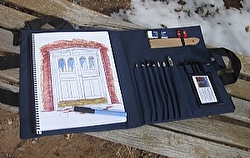 Everyone seems to have their own project these days - sketchbook projects, daily painting projects, even the Google Art Project. I've been wanting to get back to the basics of sketching and drawing on a regular basis for some time now. Recently, my sketchbook has been, well, a little "sketchy". I've done a few thumbnail sketches in preparation for painting and played around with different ideas. I also take lots of reference photos, but I really believe that I can connect much better with my subject matter if I take the time to draw before painting. Plus, I love art supplies, so it just gives me an excuse to buy more!
A few months ago, I purchased a Sketch Folio, which is great for carrying my sketchpad, pens, pencils, even a holder for my business cards. I finally went out today to do some sketching. I just purchased a new sketchpad and a set of brush pens. I've never used brush pens before and thought it would be an easy way to add color. They are fun to use, but now I think I'll add some watercolors to my next sketches. Watercolors will allow me to get more variations and color mixtures.
Temps were in the mid-30's, but that felt pretty good after having dipped just below zero the last few days. I went to one of my favorite spots, which is the Old San Ysidro Church in Corrales. It's really pleasant and peaceful there any time of the year. Across from the church is Casa San Ysidro, which is part of the Albuquerque Museum. I can't believe I've never been inside, but I will definitely be doing that later on this year. For today, I was happy to sit out on one of the old benches and sketch in the cold. I also took a few photos to share.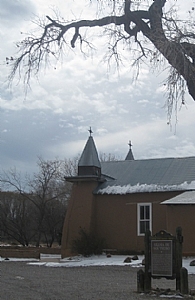 La Iglesia de San Ysidro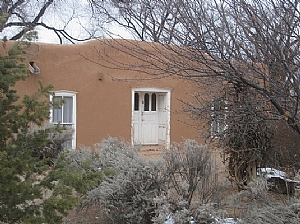 Casa San Ysidro
Well, just thought I would share the beginning of what I hope will be a long relationship with my sketchbook! For all you artists who feel like you are experiencing a creative block, I say get outside and sketch. The ideas will flow!
Comment on or Share this Article →