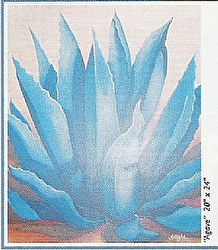 Agave
Several years ago, I had some paintings stolen from me by a frame shop owner. Click here to read the entire story here on my blog. I always hoped that my paintings would find their way back to me, but that has never happened. One of my favorites was entitled Agave. It was painted in acrylics and measured 24"h x 20"w. It was inspired by another agave painting I had done back in college. That one was painted in oils and measured 36"h x 30"w. I loved it and hung it in my home for years. However, cracks developed in the painting over the years due to inexpensive materials that I had used as a student.
So, I painted Agave in 2002. Unfortunately, at the time, I did not take digital photos of my art. What was I thinking? So, the picture here was scanned from a photo the frame shop had used in an ad. It's not a good photograph, but it's all I have. The new painting will be the same size, 24"h x 20"w and painted in acrylics on canvas.
I did paint a similar one a few years after that entitled Agave II. But I've always missed the first one, so I've decided to recreate the same painting. It will be just for me and I will title it My Agave. The original will not be for sale, but I will have reproductions available for purchase. I will share it here and in my email newsletter.
Comment on or Share this Article →