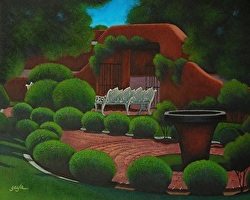 I tend to work on several paintings at once. So, in the middle of working on "San Felipe de Neri", I began my most recent painting, "One Summer Morning".

This painting depicts the peaceful courtyard near the church. It is a beautiful, serene setting from which to watch the activity of the Old Town Plaza.

As with all of my art, fine art prints and greeting cards are available at Imagekind. Imagekind also has a very nice selection of fine art papers and canvas to choose from, as well as custom matting and framing.


Comment on or Share this Article →