Johnnie Allen Wilbourne lived his entire life in Clarksville, Virginia. He was my grandfather. I was his first grandchild. I have been told that he liked to drink when he was younger, but he stopped drinking on the day I was born.


He had a sixth grade education, but he was blessed with many creative talents. He was a master carpenter, draftsman and brick mason. He could draw detailed blueprints for new homes like a trained professional. He spent his entire life working as a carpenter and built many homes in the area.


He was very meticulous about his work and would not stop until it was perfect. He once made a window cornice for my mama from a piece of wood. He actually drew an ornate design, freehanded, onto the wood and cut it with a little saw. It was perfectly symmetrical. I was amazed.


He was an avid bottle collector and coin collector. He had an impressive bottle collection in his living room, where he built shelves along one wall to hold them. In addition, he had a chicken house in the back yard full of more bottles. He loved to go "bottle hunting", going to old abandoned houses and digging for his treasures.
For years, he drove an old blue and white milk truck. My brothers and I loved to ride in that with him. It had a driver's seat and a passenger's seat. The back had benches on either side, but it was hard to find a good place to sit because it was so full of tools, but we loved it anyway.
He and my grandma were married for over fifty years. My grandma loved to tell jokes. She would start out with a straight face like she was telling you a true story, until she hit the punch line. When she was taken to the hospital with a heart condition, the EMT's said she was telling them jokes as they put her in the ambulance. She had heart surgery and on the day she was to come home, she died from an infection.


My grandparents were simple country people and they loved to go fishing together. When she died, granddaddy was so hurt and lost without her, he never went fishing again.


A few years before he died and before I moved out west, I had the chance to spend a day with him. He took us around town, pointing out all the houses he had built. We went to one in particular, which he did not build, but had spent years renovating. It was a work of art, with a beautiful flagstone patio and steps going down to the pool.


He lived his entire life in a rented house, with no bathroom and no running water. Throughout his life, his employers had offered to give him enough surplus building materials that he could have built himself a new home. But he always said, if he did, it would have a dirt floor. That's just the way he was.


I have many good memories of sitting on that old porch swing, the rose bush at the end of the porch, the weeping willow, the ice cold watermelons and the homemade ice cream.


When he died, my mama gave me the drawing table he had built when I was very young. It is very special to me, not only because he built it, but because it still has his handwriting inside the drawer. It still has an old pencil sharpener attached to one of the shelves that works. I have moved several times over the years, and it is hard to move it, but I always take it with me.


Johnnie Allen Wilbourne, my granddaddy, master carpenter, brick mason and draftsman, will never be well-known or famous. He will never be written about in books. He will, however, always be in my memory and in my heart.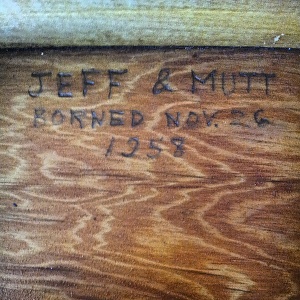 Comment on or Share this Article →