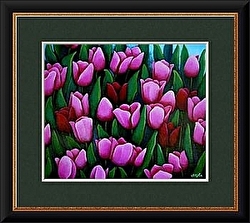 Bridget's Tulips
In addition to my wonderful art site here on Fine Art Studio Online, I use other sites to sell reproductions and/or to draw traffic here to my main site. Here are a few and why I have selected them.

Imagekind has become my favorite site for fine art prints. I have ordered a few and the quality is excellent. They sell museum quality prints and buyers can select from eight different acid-free papers and two types of canvas. Custom framing is also available with over 160 frames and over 140 mats to choose from. Greeting cards are available, as well. My gallery can be viewed here.

Artists interested in having their work on Imagekind can select from four types of accounts. There is a very active artist community with a forum and groups. Imagekind helps promote their artists by displaying eight new images each day on the home page, as well as two artist profiles. They also highlight certain artists in their blog. However, like most print on demand sites, it is up to the artist to build their own customer base. Artists are free to set their own royalties.

Artist Rising was created by Art.com to give artists a place to show their work, as well as give them an opportunity to have their work on the Art.com and Allposters sites. Artists can submit images for poster prints or fine art prints. The setup process takes a bit longer than other sites. First, the image is uploaded and description is added. Then it has to be approved, which takes a couple of days. After the image has been approved, the artist can set up either poster prints or fine art prints. The poster print setup also takes a couple of days. I have only created poster prints, but from what I understand, the fine art print setup involves a fee and mailing of images on cd. Artists are paid a 15% royalty on sales.

Unfortunately, Art.com does not assist the artists very much with advertising this site, although they do have a small link to it on their site. The great thing is that they will periodically migrate images from Artist Rising to the Art.com and Allposters sites and that is where most of the artists make their sales. Their decision on which images are chosen is based on sales on Artist Rising and/or decorating trends. Artist Rising also includes an artist forum, but we really have to help each other out, because there is very little feedback from the Artist Rising team.

Redbubble is a very fun and active online artist community. They have lots of forums, groups and activities going on there. The Redbubble team is constantly working to make this a great place for artists and buyers and they keep us well-informed. Artists can create an artist profile and a Bubblesite, all for free! They offer a variety of prints, as well as greeting cards, calenders and t-shirts. The greeting cards are beautiful! Artists are also free to set their own royalties. Writers can submit their work, as well. I have read some beautiful poetry there.

Zazzle is also a fun and active place for artists to sell all kinds of products. My Zazzle gallery includes fine art prints, greeting cards, postcards and postage stamps. However, there are a multitude of other products to create such as t-shirts, shoes, skateboards, magnets, mugs, calenders, etc. It also includes a very active artist forum and the ability to comment and favorite other artist's shops. Zazzle galleries are also free and artists can set their own royalties for each product.

Well, there are lots of others sites out there, but these are the ones I have been with the longest and am the most familiar with.
Comment on or Share this Article →