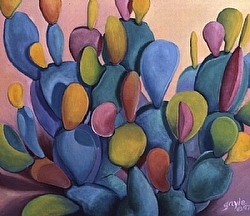 ©1997 Gayle Faucette Wisbon
A few months ago, I discovered my painting, "Desert Jewel" on another art site called "5uart" under the name Home Arts Network. I will not post a link here because I am not going to help give them more exposure. This is a company in China that takes images of art from the internet, paints copies of the images and sells them as "hand-painted originals" in various sizes.
They are doing this to thousands of artists. Many of the images I recognize from art.com, which is a very well-known online print and poster site. I have even seen at least one image that still had the art.com watermark on it. It appears that most of the images have the watermark removed and replaced with their own. They even use the original artist's name and offer the paintings signed by the artist. They also have the nerve to post a copyright notice on their site with no regard for the copyrights of the original artist. This is not an art.com affiliate site. I can recognize an affiliate and this site is not selling prints, they are selling oil paintings.
I have written to them three times - twice to the CEO, once to customer service and attempted to speak to someone via the online chat. They have ignored me every time. I'm sure there are lots of these companies who make and sell copycat art and there is probably not much that can be done.
So, I just want other artists and buyers to be aware of this. This company is using my image, copying and selling my art without my permission.
Comment on or Share this Article →