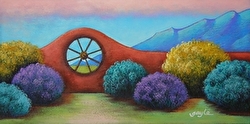 A Wall with a View
"A Wall with a View" was painted in 2008. I was sketching the Sandia Mountains and before I knew it, I had a wagonwheel wall and colorful shrubs. It was late in the day and the sky really did have a layer-like appearance of pink, lavender and blue.

Fine art prints are available on The Untapped Source in the following sizes:


4" x 8"
12" x 24"

I recommend having this printed on watercolor paper or canvas, but matte, glossy and luster papers are also available.
Comment on or Share this Article →