Rosette
<< Previous | All | Next >>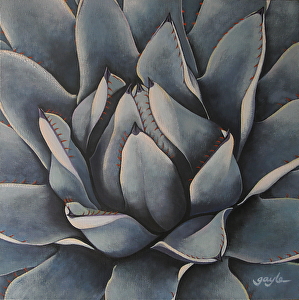 Medium: Acrylic on Canvas
Size: 18 x 18
Availability: Sold

---
Artist Comments
Click here to purchase a print of this artwork.
This is an acrylic painting of an agave plant. I wanted to do something a bit different than my brightly colored paintings by capturing the muted grays in this plant. There are all sorts of color combinations in this painting - yellows, reds, browns, greens, blues, purples, as well as black and white.
©2010 Gayle Faucette Wisbon, Rosette. Original acrylic painting on canvas, 18 x 18 inches.
---
<< Previous | All | Next >>