Sunlit Agave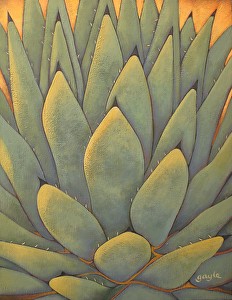 Medium: Acrylic on Canvas
Size: 18 x 14
Availability: Sold

Click to zoom in
Contact the artist about this artwork
Artist Comments
Click here to purchase a print of this artwork.
I've wanted to paint this agave for a long time. It is based on a photograph I took close to sunset. I liked how the sun just barely touched the tips of the leaves. I love the naturally abstract shapes of agave and cacti, which is why I enjoy painting them so much.
This is an original acrylic painting on gallery wrapped canvas. The sides are painted dark brown, so it can be displayed unframed. The painting will be delivered varnished and wired for hanging. Free UPS Ground shipping to the continental U.S.
©2012 Gayle Faucette Wisbon, Sunlit Agave, Original acrylic painting on canvas, 18 x 14 inches.